Peter Zomick's (reefcrazed) Reef Aquarium

I would like to wholeheartedly thank everyone here on Reef Central for the invaluable information and knowledge I have gained and put to use to create my most recent masterpiece. I can honestly say that my aquarium being featured here this month would NOT have been possible without you. So, THANKS!
It all started six years ago with a ten-gallon saltwater tank and a Penguin filter, no skimmer, a black Percula Clownfish, some live rock and some crushed coral. What you see today is the end result of an obsession that has consumed my life. This 525 gallon reef tank is 96" long, 42" wide and 30" high. It sits on a custom wood stand and canopy. I have six floor joists in the crawl space of my house to support the approximately 8500 pound load.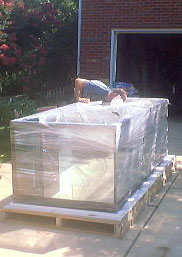 After my boredom with freshwater fish, I read a book on saltwater (I do not even remember which one) and tried out a ten-gallon tank. Everything was perfect for about six months. After that I felt it was time to move into something a bit larger so I purchased a 180 gallon tank (84"x18"x30"). Of course, I did not know at the time that 18" wide is way too small. I had two 175 watt metal halides (10K) and two 96 watt power compacts (actinic). I kept a handful of fish (most of which are still with me today) as well as a handful of large-polyped stony corals and soft corals.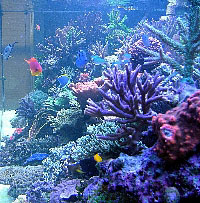 Then about a year and a half later, one morning right before I went to work, I went to check the tank as I always do. On this particular morning, however, something was not right. I heard a little gurgling and the carpeting on the floor was really wet. I screamed as my wife came running in. I was literally frozen with anxiety. The tank had sprung a leak and was dripping, most probably all night! If it wasn't for my wife I would have lost everything. We quickly got all the tubs and vats we could possibly find and I began siphoning water from the tank as my wife began taking the live rock and corals out to put them into the vats. Then we caught all the fish and critters. We then put a bunch of powerheads in the vats and finally began breathing normally again. I then thought, okay, "Where the heck am I going to get another aquarium with those dimensions to fit on the custom stand and canopy?" I began calling all of the fish stores in both North and South Carolina. To my misfortune only one store in North Carolina had a large aquarium and it was 300 gallons. They wanted something like $5,000.00 for it. I almost broke down and bought it. Luckily, as a last ditch effort I found a place in Greenville, SC that had a 350 gallon acrylic aquarium, complete with a stand and canopy that they had had in their store for years and wanted to get rid of, as it was just taking up space. It was also brand new. The price was right so into the truck I hopped. A week later the new aquarium was set up with 90% of everything from the 180 gallon system surviving the move.
| | |
| --- | --- |
| | |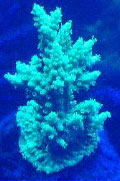 The bad part was this new 350 gallon aquarium was 84" x 24" x 34". Thirty-four inches depth was too tall for me to clean the bottom inside acrylic walls. I wound up scratching the tank and was simply not happy with it. After about a year I decided to begin planning my dream tank. Fortunately, I earn a decent living and can afford the 525 gallon system you see here today. This aquarium is glass and weighs over 1400 pounds without water! I prefer glass over acrylic.
Water Parameters:
· Calcium: 375-450ppm
· Alkalinity: 9-11dKH
· Mg: 1250
· NO3, NO2 and ammonia: 0
· Specific Gravity: ~1.0245
· pH: 8.1-8.3
In this almost-new set-up (two years running now) all of the plumbing goes through the wall into a room I built in a section of my garage. Below, you can read all the specs and see plenty of photos.
I finally have a stress-free, beautiful, healthy piece of a reef in my living room (well, what really should be my dining room). I am so thankful my lovely wife allowed me to turn our house upside down temporarily to create this awesome display.
Filtration and Equipment:
600 lbs. live rock (Fiji, Marshall Island and Kaelini)

600 lbs. Southdown sand

150 gallon sump

Aquarium has four 1 ½" Durso standpipes (two in each back corner). One of the overflows also has an unintended Aiptasia scrubber.

Aerofoamer skimmer

ReefConcepts calcium reactor

Supplemental kalkwasser reactor used for all top-off

Additional calcium reactor to maintain Acropora spp. calcium demands

50 gallon refugium with a 7" deep sand bed and 20 lbs. of live rock

100 gallon fragment grow-out tank

100 gallon inline (but can take offline) quarantine tank now housing nothing

1 ½ HP Pacific Coast chiller (works like a charm)

15% water changes are performed monthly (I use Bioassay Crystal Seas Sea Salt). I switched after reading Dr. Ron's article about his research. I had a few corals bleach, but they have since recovered. I believe that it's because my aquarium is large and the water changes were small and spread out over time that things were pretty stable during the change from Instant Ocean.

Dolphin 4500 pump for the main return

Closed-loop system powered by an Ampmaster 3000 pump through two 1" Sea Swirls

Two Velocity pumps powering two additional 1" Sea Swirls in a second closed-loop system


| | |
| --- | --- |
| | |
Lighting:
Main Tank:

7 - 400 watt metal halide XM 20K (on for 10 hours a day)

2 - IceCap 660s running eight 4 ft. actinics and 10K bulbs (on for 12 hours)

Red LED lights installed for night viewing (only used when I feel like observing at night)

Blue LED moonlights


Fragment Grow-Out Tank:

2 - 400 watt Radium 20K pendants

1 - 250 watt HQI 10K pendant

Refugium:
Fish:

Yellow tang

Powder Blue tang

Purple tang

Regal tang

Sohal tang

3 female Lyretail anthias

2 Bangaii cardinals (mated pair)

1 male Lyretail anthias

Mandarin dragonette

Psychedelic dragonette

2 Skunk clownfish (mated pair)

Coral Beauty dwarf angelfish

Six line wrasse

Purple/red/yellow fairy wrasse (unidentified)

Foxface

11 Green chromis
Invertebrates:

Maroon serpent star

Black and white banded serpent star

Brown and tan banded serpent star

Brown serpent star

Yellow and black brittle star

2 Black brittle stars

Yellow cucumber

Black and tan cucumber

Blue Linckia starfish

8 Cleaner shrimp

Astraea snails

Nassarius snails

Cerithium snails

Nerita snails

Blue legged hermit crabs

Scarlet hermit crabs

Bristleworms

Rock crabs

Emerald crabs

Commensal crabs
LPS Corals:

Green Lobophyllia sp.

Maroon and green open brain coral

Red and green Candy Cane (Caulastrea)

Red Blastomussa sp.

Green Candy Cane (Caulastrea)

Green maze brain coral

White maze brain coral

Pink-tipped frogspawn

Green-tipped frogspawn

Pink-tipped elegance coral

Green short tentacle plate coral

Orange short tentacle plate coral

Red and green closed brain coral

Maroon and green brain coral

Green moon brain coral
SPS Corals:

Thin branching blue tip Acropora sp.

Green table w/light tip Acropora sp.

Purple w/blue polyps Acropora sp.

Green w/blue tips and white polyps Acropora sp.

Tri-Color Acropora secale

Teal Acropora humilis

Blue Acropora acuelus

Green with orange tips Acropora sarmentosa

Purple tip Acropora sp.

Green Acropora sp.

Purple tip Acropora nana

Acropora solitaryensis

Acropora formosa (staghorn)

Fuzzy teal Acropora sp.

Baby blue tip Acropora sp.

Green Slimer Acropora yongei

Green w/blue tips Acropora sp.

Dark blue tipped Acropora sp.

Green w/purple tips Acropora sp.

Yellow w/pink tips Acropora sp.

Brownish blue Acropora sp.

Baby blue Acropora sp.

Aqua Acropora sp.

Yellow stag with pink tips

Pinkish, blue tipped Acropora millepora

Blue w/maroon polyps Acropora millepora

Green w/yellow tips Acropora millepora

Flourescent pink w/white polyps Acropora millepora

Brown Pocillopora damicornis

Pink Pocillopora sp.

Pink Stylophora sp.

Green Stylophora sp.

Magenta with bluish tip Stylophora sp.

Blue polyp Stylophora sp.

Green Montipora digitata

Purple Montipora digitata

Blue polyp Montipora digitata

Purple/green encrusting Montipora sp.

Green with purple rim Montipora capricornis

Tan with pink rim Montipora capricornis

Orange Montipora capricornis

Orange encrusting Montipora capricornis

Green Seriatopora hystrix

Brown with purple polyps Montipora capricornis

Pachyseris sp.

Pavona sp.

Mycedium sp.

Yellow Scroll Cup (Turbinaria)

Pink Seriatopora hystrix

Pink Seriatopora caliendrum

Brown encrusting w/purple polyps Montipora capricornis
Soft Corals:

Green button polyps

Colt coral

Pulsing Xenia

Green Tonga mushrooms

Watermelon mushrooms

Blue mushrooms

Red Tonga mushrooms

Green metallic striped mushrooms

Green Star polyps

Orange with green center Zoanthids

Yellow Zoanthids

Pink Zoanthids

Red Zoanthids

Peach Zoanthids

Yellow polyps

Green Caladium (Flourescent)

Green leather

Orange Ricordea yuma

Blue Ricordea florida

Pink with blue rim Ricordea florida

Orange with blue rim Ricordea florida

Purple Ricordea florida
Clams:

2 Blue-rimmed Tridacna derasa

Ultra Tridacna maxima (Purple/blue)

Ultra Tridacna crocea

First grade Tridacna crocea

Pohnpei Tridacna maxima (Pink, blue and black)
---
Feel free to comment or ask questions about my tank in the Tank of the Month thread on Reef Central.