Current Issue

Tank of the Month
Tank of the Month
Greg Timms's (Oldude) Reef Aquarium
Introduction
---
My name is Greg Timms and it is an honor to have been selected for a Tank of the Month feature with Reefkeeping Magazine and Reef Central. I am humbled to be in the company of so many accomplished "reefers." Every month I look forward to the latest issue of Reefkeeping and Tank of the Month is one of my favorite articles. I have been inspired by so many of the featured tanks over the years and although the majority of these elite "reefers" don't know me personally, they have been my mentors. Reefkeeping Magazine is truly world class and is the standard by which all others are compared, so it is with great excitement I present my little piece of the ocean for your review.
History
---
I ran freshwater aquariums for years & when I shut my last one down in the late 1980's due to a leaking tank I decided at that time when I eventually get back into the hobby I would switch to salt water. I coached soccer for about nine years from the mid nineties through to 2004 and it kept me very busy but eventually ran its course when my son became old enough to play for men's teams. After being so active in "football" for all those years I felt a bit lost at first. It was then my wife suggested I find a new hobby, so we decided that maybe it was time to get that salt water aquarium I had talked about.
I started to do some research and after several months felt I was ready to take the plunge, so in October 2004 my salt water dream became a reality when I had a 130 gallon tank built. I thought I'd begin my salt water adventure with a FOWLR and maybe add in a few soft corals to sway back and forth in the flow but that concept didn't last long and as you'll see from my pictures the hobby has obviously evolved a great deal for me since that time.
It didn't take long before I became enthralled with stoney corals and was consequently forced to upgrade my equipment on an ongoing basis to accommodate an SPS dominant reef. Over the years I have experienced battles with pretty well all the pests that can plague an aquarium and I learned the hard way that nothing goes into the system without being given a dip and thorough examination.
Concept and Tank Profile
---
Eventually the corals became over grown with some colonies growing into the glass while some others grew right out of the water. It became apparent that my 130 gallon tank was just not big enough to house the reef I had in mind, so in 2008 I started planning a new tank that would give me some room to expand my reef. Besides just needing more room I wanted the new reef to have the "built in" look with oak paneling and since it would be the first thing you see when coming down the stairs it had to have somewhat of a "wow factor" (which I'm told it does).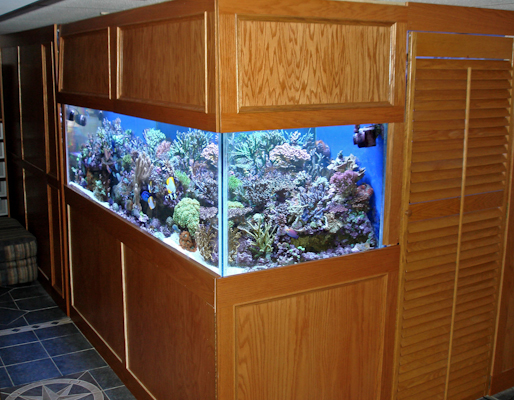 The challenge was to come up with a design I could incorporate into an already developed basement. I wanted a layout where I could have full access from the front and sides along with a room behind for the equipment and such. I eventually settled on tank dimensions that would allow me a reasonable sized reef while still affording me enough area for a functional fish room with all the top & side panels opening up for easy access to the tank.
The new tank is approximately 400 gallons and measures 96 inches wide, 36 inches deep & 27 inches in height and is viewable from two sides with a "Starphire" front pane. With the size and weight of a glass tank of that volume we thought it best that it be built on site, so in November 2008 the stand was assembled so the glass work could begin in early December.
As soon as the tank was together construction for the room and surrounding area began. The flooring around the tank area is done in ceramic tile with a nautical compass dead center in front of the tank which I think goes well with the theme of the room.
For my new reef I wanted to achieve as natural a look as possible, complete with several canyons and caves with lots of swim-through areas. I had a pretty good idea of what I wanted so I carefully selected new live rock for the reef's top that I could combine with the rock from my old tank. I wanted the rock work to be very stable while still giving me the look I was going for so I drilled and zip tied the pieces together to obtain the desired result.
During the first week of January 2009 I set up the new aqua-scape and moved over the contents from my existing 130 gallon reef. The main display, soft coral & frag tanks are all plumbed to a common sump giving a total system volume of approximately 700 gallons.
For the most part I am pleased with the growth I've had this past year and the way things have filled in. I tried to place the corals in such a way so that as they matured it would create a natural looking "reefscape" and I believe this is now coming to fruition. In trying to keep with a more natural look I am a firm believer in having a sandbed although it is quite shallow ranging in depth ranging from 1 - 3 inches. I personally prefer the look of a sandbed as opposed to bare bottom and although it is shallow it serves purposes other than just aesthetics. I have several wrasses that bury themselves in the sand at night, sand sifting gobies that feed on it's nutrients and it of course also creates another area for biodiversity to form & grow.
It does how ever have the one drawback that when it gets stirred up by the fish it can create some particulates floating in the water but it's well worth it. That said the "sand storms" are kept to a minimum as I use Caribsea "special grade seaflor reef sand" which is fairly course and in high flow areas where the sand tends to blow around and leave some bare spots I use live rock "rubble" which works really well as a cover and looks very natural.
System Profile
---
• Display tank: (approximately) 400 gallon 12 MM starphire tempered glass front & 5/8 float glass with euro-bracing 96"Wide x 36"Deep x 27" High
• Soft coral tank: 130 gallon 72" Wide x 18" Deep x 24" High
• Frag Prop tank: 40 gallon euro-braced
• Sump: 125 gallon glass
• Skimmer: Euro-Reef RC500, Skimmer Pumps – 3x Eheim 1262
• Controller: Profilux Pro II with doser
• Chiller: Aqua Medic AT5000
• Filters: 2x 100 micron pre-filter socks attached to overflow pipe and on the chiller return to improve water clarity and bubble control
• RO/DI: BSR Jumbo 300 GPD TDS Spartan
• Reservoirs: 45 gallon (freashwater) 50 gallon (saltwater)
• Auto Top Off: Tunze Ozmolator
• Reactors: 2 Phosban reactors with Rowaphos
• Lighting: Aqua Medic "Sexy" Ocean Light (2x 150 w & 3x 250W) 2 X 48" 54 watt 6 bulb Tek Light fixtures 130 gallon Lighting – Coralife 150 W MH fixture
• Bulbs: Pheonix 3 x 250 watt 10k & 2x 150 watt 20k The 12 T5 bulbs are a mix of Fiji Purple, 10K & Reef Blues.
• Water circulation: Reeflow Dart (return), Reeflow Hammerhead (closed loop), Ocean Runner 6500 (return for soft coral & frag tank), 4 X Vortech MP40W with EcoMarine Battery Back up, Tunze Turbelle Stream 1x 6000 & 1x 6100 with Tunze 7095 Multi Controller (with single white LED moon phase light)

Fish Room
---
The fish room is approximately 10' X 14' and houses the back end of the main display, the 130 gallon soft coral/angel tank, 40 gallon frag tank and of course the sump and all the equipment. The custom 125 gallon glass sump is located under the main display and as previously mentioned feeds all three tanks. I am fortunate to have a window in the room that I can use to vent through using a fan which gives the room a complete air exchange approximately every 4 minutes. Drawing cool air in through another window just outside the louvered door to the room keeps the area a very reasonable temperature. I have a good sized work bench and sink area with a large magnifying glass inspection light so working on frags and inspecting corals is a breeze.
I have access to the sump from the back as well as from both sides via access doors built into the paneling around the tank. The skimmer is external and is mounted beside the tank and can be well accessed from both in the room itself and through a door in the front paneling. Since I end up spending a fair bit of time in the fish room I did it's flooring in non-fatigue foam matting and of course have music available using a "Bose" IPOD docking station which makes the area pretty homey and comfortable to work in.
Filtration
---
The filtration is handled mainly through the 600 plus pounds of live rock throughout the system. I have a small refugium area in the sump filled with chaetomorpha which helps with some of the nutrients however I believe my main nutrient export source is the in line 130 gallon soft coral tank. I think soft corals likely use up nutrients as efficiently as many of the available macro algae. Now saying that I have never done an actual comparison test but I do know it works and I'd rather look at a tank full of soft corals than a tank full of macro algae.
Further filtration is done via a Euro-Reef RC500 skimmer and although the reactor chamber holds 8 gallons of water I believe is close to capacity so I'll likely need to upgrade one of these days. I have the collection cup modified to drain through to a five gallon bucket to make cleaning easier and over flows less likely. I have recently installed a 1.5 inch bulkhead near the top of the bucket with a pipe leading back to the sump so on those rare occasions when the skimmer goes crazy the water will not end up on the floor.
The RO/DI unit is a 300 gallon per day TDS Spartan from Bulk Reef Supply and the ability to make a lot of RO/DI water fast has already come in handy. I had a skimmer malfunction awhile back that dumped about 100 gallons on the floor and I was able to make up the new water I needed by early afternoon (I wish the clean up went as fast).
In the sump I use a media bag passively suspended in the water and an Aquaclear HOB unit attached to the sump wall both running carbon to help keep the water clear and to absorb chemical toxins produced by the coral. I also run Rowaphos in two Phosban reactors to help soak up some of the phosphates created by my
large bioload.
Lighting
---
The lighting is a mix of HQI metal halides & T5. Across the front half of the tank are four DE 250 watt 14000 Kelvin bulbs & two DE 150 watt 20000 Kelvin bulbs. End to end across the back half are two 48 inch T5 fixtures for a total of a dozen 54 watt bulbs with a mix of 10000 Kelvin along with blues & Fiji purple. With the above combination of lights I get some good color pop with the corals & fish, reasonable PAR with good growth and because of the halides I still get that natural looking light shimmer through the water.
Lighting Schedule for Main Display:
9:30AM-11:00PM: Actinic T-5


9:45AM-10:30PM: 150W 20K

metal halides

11:00AM-9:45PM: Remaining T-5


12:30PM-9:30PM: 250W 14K

metal halides
Lighting Schedule for Softie Tank:
9:00AM-11:00PM: Actinic

12:00AM-9:00PM:

metal halides
Lighting Schedule for Frag Tank
Water Circulation and Flow
---
Strong chaotic flow is such a crucial part of the equation for a healthy reef and especially one which is dominated by SPS. I have several sources that combine together for an approximate flow rate of 26,000 gallons per hour or a turn over of about 65 times per hour. This is created by a closed loop run by a Hammerhead pump, Dart return pump, two Tunze Turbelle Streams & 4 Vortech MP40W's. The two Tunze powerheads run off a 7095 controller and the four Vortechs are set at 100% on "wavecrest" mode with two located on the back wall and two on the far side wall. Of course as the corals grow they tend to block flow so I am planning on adding another Vortech some time in the very near future.
Water Parameters:
Specific gravity: 1.026
pH: 8.1 - 8.4
Calcium: 435 ppm
Alkalinity: 8 - 8.5 dKH
Magnesium: 1350 - 1400 ppm
Temperature: 77 - 80° F

Maintenance & Supplements
---
My systems have always been quite simple & this one is no exception in that regard. For example I have never owned a calcium reactor and have used Randy Holmes Farley's 2 part recipe for dosing Calcium, Alkalinity & Magnesium for many years. My reef has a demand which requires almost one liter of ca & alk on a daily basis to keep the levels stable. Magnesium is also dosed daily but at a smaller rate of approximately one liter per week as per Randy's recipe. For any who are not familiar with this easy to make DIY mix here's a link "Randy's recipe".
These chemicals are all dosed through a Profilux II controller and dosing unit. To help keep the calcium and alk in solution I use powerheads in the holding tanks. I of course dose double the amount of alk since it's mixedat 1/2 strength. Potasium is also dosed on occasion along with other trace elements such as Iodine & Strontium. I also use a few KZ products periodically like sponge power, etc.

I don't have a lot of gadgets other than the basics and a few things to save me time and hassle such as an auto top off unit, auto feeders & dosers. I use a timer for the sump heater which I have cycle on & off in intervals at night between photo periods.
Routine Maintenance:
Skimmer - empty & clean weekly

Pre-Filter bags – change twice a week

Carbon – change out monthly (media bag runs through an Aquaclear filter in the sump)

Water Changes – 5% weekly

Prune & frag corals as needed

Top up dosing tanks bi-weekly

Top up auto feeders bi-weekly

Clean glass as needed
Feeding
---
Feeding is provided via two separate auto-feeders 6 times per day and is generally a mix of Formula one & Formula two pellets. I believe feeding several smaller portions a day is more natural for the fish than a large portion once per day. Random feedings through out the day also help to minimize damage to corals and clams from some of the not so "reef safe" fish in the display.
Since there are approximately 70 fish in the display tank, feeding numerous times per day also creates a better opportunity for those fish with less assertive eating habits to get a good nibble since many of the inhabitants are pretty aggressive eaters and not every fish would likely catch a bite during a single feeding. I have the main auto feeder located directly above a Vortech powerhead so the pellets get well dispersed. I do not use the "feed mode" option to stop the pumps for feeding as the fish don't seem to mind chasing after their food and to me that just seems more natural.
To mix things up a bit I sometimes feed flakes and as an occasional treat I also feed "Nori" seaweed and Mysis or Brine shrimp but the fish are fat and very healthy on their main diet of mixed pellets. It is rare that I "feed" the corals anything because between the amount of fish in the reef combined with the strong lighting I'd think they're pretty well fed.
Livestock
---
I am fortunate to have several mated pairs of fish in the reef so there is some sort of spawning ritual happening most
evenings after the lights start to turn down to create a twilight affect. The most active "spawners" are the Mandarins and Anthias. The male mandarin mainly stays in his little territory and the female who tours the whole reef throughout the day swims over most nights at dusk for a little action.The dominant male Anthia has a little harem of 3 females and loves to show off his dive-bombing skills and puts on quite a show. I have a pair of clowns & gobies that are also very active and seldom separated.

Fish and Inverts
---
Fish:

Regal Tangs x2
Yellow Tang
Chevron Tang
Purple Tang
Sailfin Tang
Naso Tang
Powder Brown Tang
Watchman Gobies X2
Black/Orange spot Goby
Orange spot diamond head gobies X2 (mated pair)
Yellow Clown Goby
firefish Goby X2
Anthias X5 (2 male & 3 female)
Blotchy Deep water Anthia - Odontanthias borbonius.
Marine Beta
Cleaner Wrasse
6 Line Wrasse

 

 

 

 

Foxface
Blue/Green Chromis X18
Blue Stripe Pipe fish X2
Mandarins X2 (mated pair)
Spotted Mandarins X2
Black white Ocelaris X2 (mated pair)
Bicolor Blenny
Royal Gramma X2
Pyramid Butterflies X4
Meridithi Angel
Imperator Angel
Coral Beauty Angel
Yellow Coris Wrasse
Pencial Wrasse
Maroon Wrasse
Mottled Hawkfish
Radiant Wrasse
Solar Wrasse
Leopard Wrasse
Mystery Wrasse

 

 

Invertebrates:

Peppermint Shrimp X3
Skunk Cleaner Shrimp X2
Fire Shrimp
Blue Linkia Star
Various Hermit crabs (approx 100)
Various Snails
4-Tridacna crocea
1-Tridacna maxima
1-Tridacna derasa


 

 

 

 

 

 

 
Corals
---
The majority of SPS corals I have in my collection were started from fragments and it's interesting to see their different rates of growth, some can grow from a one inch frag to a good size colony in about a year while others barely double in size in the same duration of time. Of the approximate 180 different SPS corals I have in my display there are still many that I have not been able to positively identify, so I will only list those that I have confirmed through my own research as well as plenty of help from others in the hobby who are more knowledgeable than myself.
Identification can often be difficult when trying to compare an aquarium coral with a picture of one in the wild from a book, especially if you take reticulate evolution into consideration. Reticulate evolution is essentially the morphology that can happen to corals when they have different lighting, rates of flow and other environmental changes. I'm sure most of us have experienced it to some degree, for example I have some corals in my reef that you would never know they were from the same mother colony by looking at them.
So with that said, particularly with some of the acropora, it's sometimes easier to confirm which species they aren't rather than which species they are; well at least while they're alive anyway. For my SPS collection at least, I have tried to list the corals by the general taxonomic family first and then by genus & species.
Scleractinian (Small Polyp Scleractinia)
---
Acropora:

A. loripes

A. lovelli
A. rosaria
A. nana,
A. verweyi
A. microphthalma
A. humilus
A. gemmifera
A. caroliniana
A. jacquelineae
A. prolifera
A. loisetteae
A. prostrata
A. youngei
A. austera
A. tortousa
A. valida
A. proximalis
A. millepora
A. kimbeensis
A. formosa
A. tenuis
A. latistella
A. selago
A. samoensis
A. multiacuta
A. natalensis
A. vermiculata

A. secale
A. speciosa
A. latistella
A. grandis
A. turaki
A. lokani
A. horrida
A. abrotanoides
A. robusta
A. abrolhosensis
A. striata,
A. solitaryensis
A. efflorescens
A. plana
A. pulchra
A. subulata
A. aculeus
A. insignis
A. fenneri
A. cerealis
A. echinata
A. bifurcata
A. convexa
A. desalwii
A. tumida
A. hyacinthus
A. convexa
A. vermiculata
A. multiacuta

Montipora:


M. digitata
M. capricornis
M. danae
M. verrucosa
M. capitata
M. confusa
M. samarensis
M. flabellata
M. tuberculosa
M. aequituberculata
M. undata
M. porites
M. spongodes

 

 

 

 

 

 

 

 

 

Pocillopora:

Pocillopora damicornis
Pocillopora verrucosa

Stylophora:


Stylophora pistillata
Stylophora subseriata

Seriatopora:


Seriatopora hystrix
Seiatopora caliendrum
Seriatopora stellata
Seriatopora guttatus

Misc Stoney Corals:

Hydnophora pilosa
Hydnophora rigida
Porites sp.
Merulina ampliata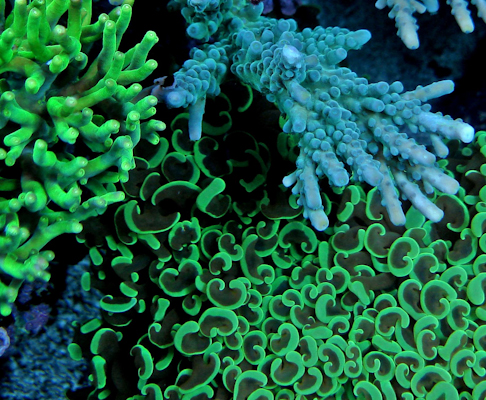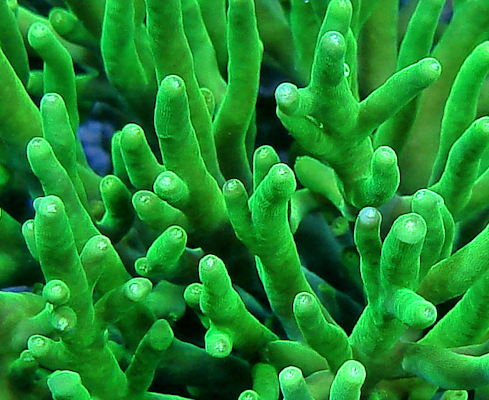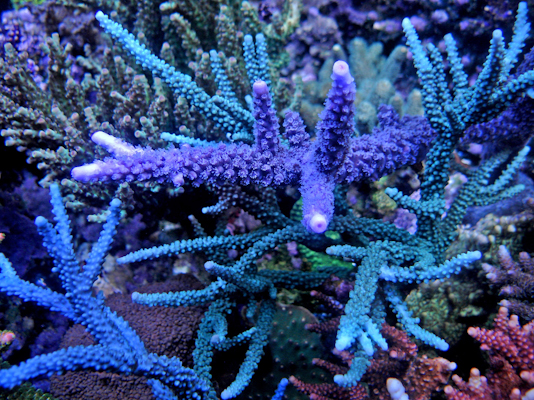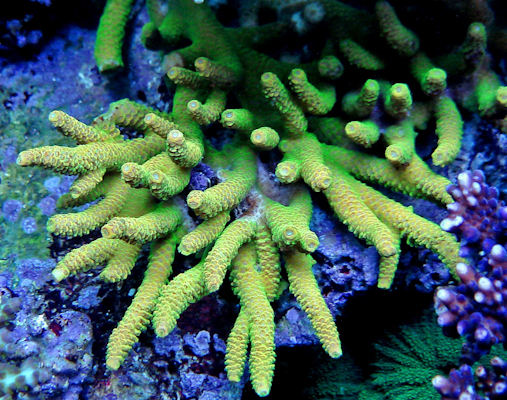 Large Polyp Scleractinia:

Lobophyllia sp.
Symphyllia sp.
Caulastrea furcata
Echinopora sp.
Favia speciosa
Cyphestrea microphthalma
Trachyphyllia geoffroyl
Euphyllia ancora
Euphyllia divisa
Echinophyllia aspera
Acanthastrea lordhowensis
Acanthastrea echinata
Turbinaria reniformis
Turbinaria peltata
Mycedium elephantotus
Oulophylia sp.
Duncanopsammia axifuga
Scolymia australis
Duncanopsammia
Oxypora lacera
Heliofungia actiniformis
Siderastrea siderea

Soft Corals & Corallimorpharians:

Zoanthus sp.
Palythoa
Tubipora musica
Xenia sp.
Alcyonium
Lobophytum pauciflorum
Sarcophyton elegans
Sinularia notanda
Sinularia dura
Capnella imbricata
Heliopora coerulea
Briareum asbestinum
Muriceopsis flavida
Plexaurella sp.
Rumphella sp.
Rhodactia
Actinoddiscus striata
Mutabilis
Cardinalis
Ricordia florida

 

 
Acknowledgements
---
I would once again like to thank Reef Central and Reefkeeping Magazine for featuring my reef, and as previously mentioned it's a great honor. I also want to thank all the people who have helped me along the way and given me support over the years. There are so many people I have learned from and I would be remiss if I didn't thank those who have so willingly shared their knowledge, time and friendship but unfortunately there just too many to list here.
A big thank you to Randy Holmes-Farley for freely sharing his chemistry recipes with us all, helping to advance the hobby to new levels. Thanks also to Mike Paletta who was very gracious in giving me his blessing when I asked to borrow his idea. I especially want to thank my wife Penny for her years of unquestioning support and always giving me plenty of room to run with my dreams.
This great hobby has taken me up and down and back and forth, through euphoric feelings of reward to great depths of frustration. All these experiences, both good & bad, along with my desire to learn and keep improving have brought me to where I am today so it's been worth it. I am pleased with the results I've been able to achieve with my reef but when I see what so many others have accomplished my efforts often seem to pale in comparison. It seems "the grass is always greener" and "the coral always brighter" on the other side of the fence. I do believe however that my "coral envy" helps me strive to keep doing better and not get complacent as I try to emulate what I see working well in other reefs.
This hobby has had quite a profound effect on me and has even changed the way I scuba dive. I used to mainly look for the big things; dolphins, rays, turtles, sharks, eels, etc which are awesome and I'll always love seeing, but since having my own reef I spend more of my dives looking at coral details and the small things many people miss such as Christmas tree worms, nudibranchs, tunicates, etc & I enjoy it more than ever. I hope that my write up and pictures have provided you a little insight into my passion for this fantastic hobby and I appreciate this opportunity to share my reef with you. I wish you all good luck and happy reefing.
---
Feel free to comment or ask questions about my tank in the Tank of the Month thread on Reef Central.