Current Issue

August 2013 Tank of the Month
August 2013 Tank of the Month
Greg Carroll's (gcarroll) 225 US-Gallon Reef Aquarium
Introduction & Background
---
Hello my name is Greg and I am truly honored to have my tank recognized as Reef Central's Tank of the Month. I first became interested in the hobby in 1992 while visiting a local fish store (LFS) in my small college town. Unfortunately, living in the dormitory, aquariums were not allowed. Even though I could not have one, I still visited that LFS every month to check out the livestock. Years later my fiancé found herself joining me on my weekend excursions to the LFSs in the area. I first entered the hobby in 1998 when my soon to be wife Jennifer, purchased my first aquarium as a Christmas gift. I soon added another tank and then another. Even though I was only keeping basic LPS and starter softie corals, the maintenance regiment was overwhelming. After reading almost every aquarium book I could get my hands on, I joined our local aquarium club SCMAS. There I met many accomplished reefers that helped to guide my way into keeping SPS. In 2003 we planned to move into our first house. Having only been a member of Reef Central for a year and found myself obsessed with the Tank of the Month articles. I read them all wanting to know what it took to have one of the most beautiful aquariums in the world. A month after moving into the new house, the 225 gallon display joined our household.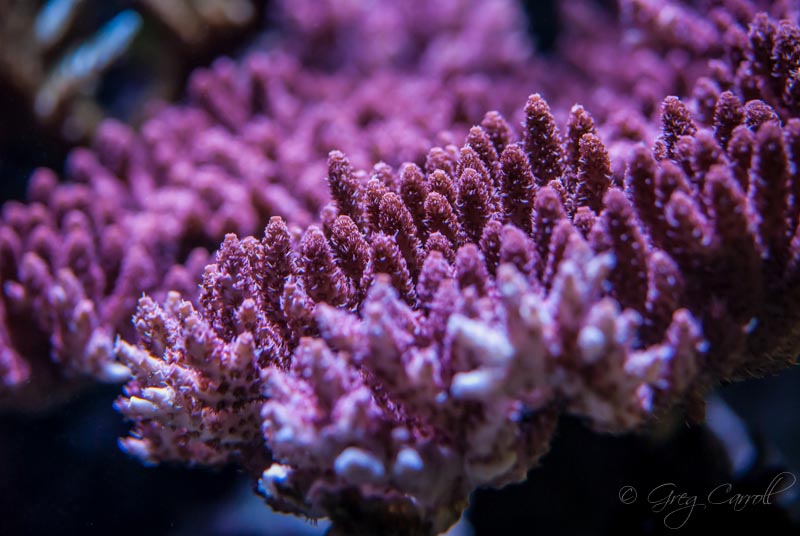 Current System
---
My display tank is a 225 gallon glass tank built by Lee-Mar. It measures 72" x 30" x 24". I chose to go with glass because my previous acrylic tanks were scratched heavily from sand trapped within cleaning pads. Although there were many tank manufacturers to choose from, here in California, Lee-Mar is known as the best in the business.
System Profile
---
• Display tank: 225 gallon Lee-Mar Flat Polish aquarium
• Display Lighting: 400 watt XM 20K Metal halides x3, Sunlight Supply Lumenmax Elite reflectors and Galaxy Select-A-Watt ballasts
• Supplemental Lighting: 100 watt Ecoxotic Cannon LED 453nm x2
• Sump: 50 gallon
• Refugium / Frag Tank: 40 gallon
• Refugium / Frag Tank Lighting: AI Nano
• Return Pump: Tunze silence 1073.02 x2
• Circulation Pump: Tunze Stream 6105 x4 & Tunze 7096 Controller
• Protein Skimmer: Warner Marine MF 251
• Calcium Reactor: Custom made AquaC RX-2 (holds approx 40 lbs of media)
• Controller: Neptune Systems AquaController 2
• Top Off: Tunze Osmolator Universal 3155
• Media Reactor: 24" tall Precision Marine media reactor with Warner Marine Ecobak pellets
• Chiller: Vornado Clip-On Fan

Lighting
---
Ok, I am old school. I came up in a time when I was told you can't keep SPS unless you have MH. Over the years I started with 4 x 250w MH, then moved to 5 x 250w MH to 3 x 400w + 4 x 80w T5, and then to my current system of 3 x 400w Metal Halide using Sunlight Supply Lumenmax Elite reflectors and Galaxy Select-A-Watt ballasts. I am currently running XM 20K bulbs. Since I feel that the blue spike of the 20K is important in stimulating colors, I added 2 – 100w 453nm Ecoxotic Cannons. These added a blue pop to my tank that was unmatched by the T5 supplements that I was previously using. I went with the Galaxy Select-A-Watt ballast because I wanted to be able to turn down the metal halides to 250w during those short summer heat waves. This is merely a precaution to over heating the tank. Although I have a canopy, the top is completely open which allow heat to naturally rise away from the water. This is probably the most important design decision that enabled me to run this tank without a chiller. Running without a chiller was important because here in Southern California, a reefer with a 200g+ tank is typically paying $.35/kwh for electricity.
Lighting Schedule:
1:00 pm: Ecoxotic Cannons ON
2:00 pm: 400w Metal Halides ON
7:00 pm: Ecoxotic Cannons OFF
11:00 pm: 400w Metal Halides OFF
Filtration
---
The filtration of my aquarium is primarily handled by my Warner Marine MF-251 protein skimmer. There is really no other mechanical filtration used on this tank. I use a 24" tall Precision Marine media reactor to run my Warner Marine Ecobak pellets. Flow from this reactor feeds my 40 gallon refugium. Unlike many other reefers, My refugium consist of a 3" deep sand bed, some live rock and however, no macro algae. After running Ecobak for some time I noticed that there were a lot of pods living in my media reactor. I soon hatched a plan to feed my refugium with water from the reactor. My refugium has now become a pod factory!
Flow
---
Flow for me is simple. Since I planned to have a lot of large SPS colonies, I needed a lot of it. I chose to run 4 - Tunze Stream 6105. I previously owned the Tunze Stream 6100 and was very happy with their performance. Upon purchase of these I quickly upgraded to the wide flow covers and with the new Tunze 7096 controller. I get great chaotic water flow. I can report that there is a downside to lots of flow. The corals tend to concentrate their growth to get thicker branches rather than growing out.
Heating & Cooling
---
Here in Southern California, It's never really cold enough to have a heater. None the less, I do have a single Ebo Jager 250w heater in the tank. I'm not sure that it ever comes on other than during a water change. For cooling, I chose the fan route. After purchasing several of those cheap white clip on fans every year or two, I bought a Vornado clip-on fan 6 years ago. I thought it was funny that they gave a lifetime warranty so I figured when it breaks I would just send it in. Funny thing is, it is still running as well and quiet as it did the very first day I bought it! The fan normally runs on low but when heat waves are in the forecast, I can bump it up to high and it is able to keep the tank at a stable 79 degrees.
Food
---
After years of trying many different foods on the market, I settled on Reef Nutrition food for my reef. I enjoyed the ease of feeding not needing to thaw the product. I typically feed 10ml of each of the following products: Oyster Feast, Roti Feast, Phyto Feast, Artic Pods, and Mysis Feast. In addition I also have an Eheim auto feeder that feeds the AP Breed dry foods 4 times per day to keep my anthias fat dumb and happy.
Fish:
Purple Tang
Bristletooth Tang
Orange Spotted Rabbitfish
Scribbled Rabitfish
Scott's Fairy Wrasse
Orange Spotted Goby
Copperband Butterfly
Percula Clownfish
Blue-Green Chromis x4
Longspine Cardinalfish x3
Dispar Anthias x11
Lyretail Anthias x3
Next Saga
---
Unfortunately, I will soon be taking this tank down as we have sold our home. The good thing about moving is that a new tank is on the horizon! This ground up build will enable me to address many of the mistakes that I made designing my tank 10 years ago. The biggest factor that will be taken into account is the high energy costs her in California. Due to this concern I plan to join the LED revolution with my future tank. I plan to use Aqua Illumination Vegas as they are one of the only fixtures that are easily upgradeable from generation to generation. As a Metal Halide guy I like to try new things and would hate to get stuck with a non upgradeable fixture since the LED technology is still evolving. I have been running the AI Vega on a separate frag tank for some time and feel confident that AI has produced a fixture that can match the results of my Metal Halide. For filtration I will be sure to design a sump and stand to accommodate my ATB 1260. I am also thinking the possibility of going with a wider and possibly shallower display. Being an SPS keeper, we love looking down on our corals! So stay tuned for the build thread!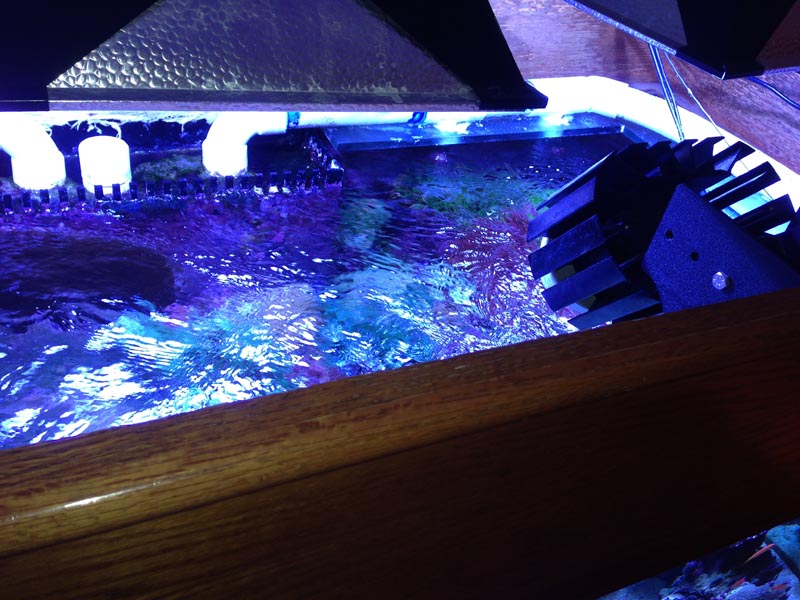 Acknowledgment
---
I want to first and foremost thank my wife Jennifer and two lovely daughters Jayda snd Mia for inspiring me to keep pushing forward in this hobby. Unlike many guys in the hobby, my wife is actually the one who introduced me to it. I would also like to than my friends Carlos Basileski, Drew Wetherholt, and Marc Trimble who's tanks inspired me to keep SPS. I would also like to thank the members of the Southern California Marine Aquarium Society, who since 1984 have had open arms to help any hobbyist willing to learn about the wonderful world of reefing! I also cannot forget to thank SCMAS members Richard McKellips, Steve Garrett of Garrett's Acropolis, Leo Chen of Coral Revolution as well as Tony Huynh of Reef Raft USA for offering me temporary homes for my corals while I move and set-up a new aquarium. Special thanks also to Leo Chen for also helping out with the pictures and video for this article. And last but not least, I want to thank Reef Central for giving us an open forum to share our reefing experiences for the betterment of the hobby! Remember: SPS = Stability Promotes Success!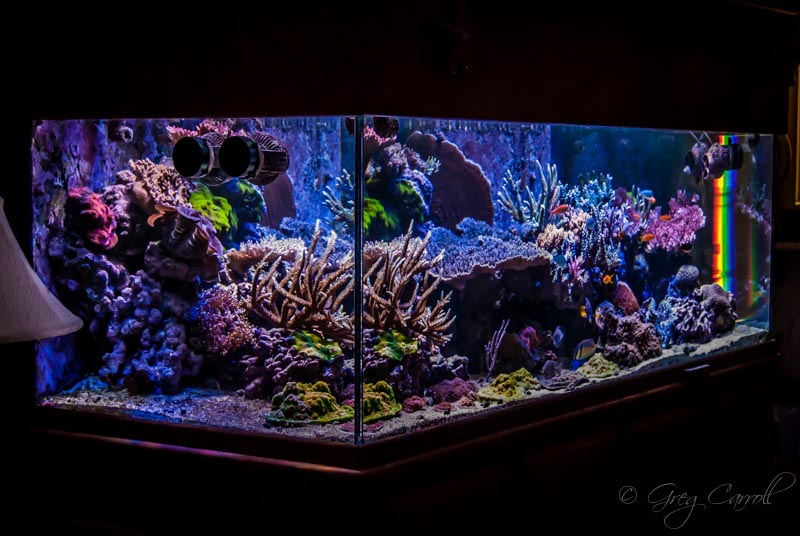 ---
Feel free to comment or ask questions about my tank in the Tank of the Month thread on Reef Central.