Current Issue

October 2014 Tank of the Month
October 2014 Tank of the Month
Xuan Li's (jacky.l) 170 US-gallon Reef Aquarium
Introduction
---
It is such an honor to be chosen TOTM, I want to thank Reef Central for the opportunity to share my reef tank on the Reefkeeping magazine. At the same time, I would like to thank all my friends that have given me help and support along the way, I have gained a lot of knowledge in Reef Central. My name is Xuan Li, I'm from a city in China called Taiyuan, where I grew up and live now. This is an inland city with a very primitive marine market, I never thought I would be able to build a real reef tank right here at home, but it actually succeeded
Background
---
I first came into contact with reef aquariums in 2001 at a local shopping center. It was like a dream, one that I never thought could be real. But then in 2007, I came across an online video that changed my mind. At that time, my wife and I started to envision what it would be like to have my very own reef tank. In the days after, I did a lot of research online and embarked on the long journey of learning. Due to various reasons, it wasn't until August of 2011, using my move as an opportunity that I got my first reef tank, which is the tank of interest. As of now, it has been running for 3 years. This is a 170 gallon, 3 way view aquarium. During the beginning phase I did a lot of experimentations: setting up refugium, using the filtration system to load GFO and activated carbon, adding 10+ ZEO additives, with daily efforts mainly spent on maintaining the tank. It was a lot of work but I loved it. However, in June of 2013, I had lost several SPS corals grown from small fragments, one of which had grown quite large, due to overly low nutrient levels. I was really bummed and started to analyze the issue and make system level adjustments. I decided to use the simplest method for maintenance. I removed the refugium and two filters, stopped adding most of the additives, leaving nothing but the filter bags, skimmer, and one circulation pump in the sump. A clean sump is visually appealing, and after running it for more than a year, proved to be quite effective. I now have more time to appreciate my reef aquarium.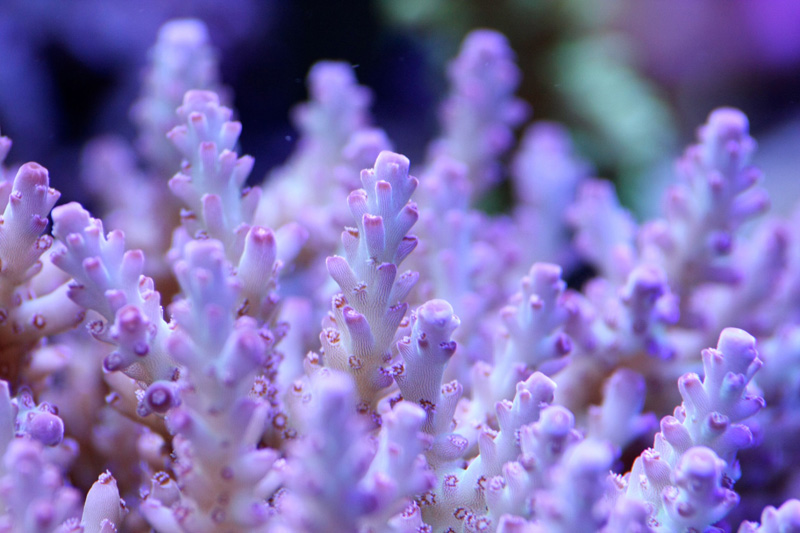 System Profile
---
• Main Display Aquarium: 150cm x 70cm x 60cm (59in x 27in x 23in) 140 US gallon
• Sump: 120cm x 50cm x 40cm (47" x 19" 15")
• Skimmer: AE CLIN
• Lighting: Silver Ceiling 54W x8
• Return Pump: Powerjet 9000
• Water Circulation: Tunze 6105 x4
• ATO: Tunze 3155
• Dosing Equipment: Bubble Magus Dosing Pump


Filtration
---
Filter bags are very practical; it can filter out most of the impurities and allow the water to remain transparent. I use the skimmer from AE CLIN; it's been more than three years and still very satisfied with its performance. Aside from that, I don't have any other filtering equipment. I have a Powerjet9000 for circulation, although it's been more than three years and I have never cleaned it, its performance is still fairly stable. Hoping it will stay that way.
Additives
---
I use sodium bicarbonate, calcium chloride, magnesium chloride and potassium chloride to supplement alkalinity, calcium, magnesium and potassium. These are added with Bubble Magus's dosing pump.
I believe a rich Bacteria in the system is very important. I currently use three types of Bacteria: Bio Digest, ZEO bak, and Brightwell MicroBacter7. Each week, I add one of the three to my tank and from an operations standpoint it's been ideal so far.
Water Parameters:
Salinity: 1.026
pH: 8.1 - 8.4
Calcium: 420 ppm
Alkalinity: 8 dKH
Magnesium: 1350ppm
Temperature: 26 - 28 oC (78 - 82 oF)
Lighting
---
I have always used T5HO for lighting, for the lamp I use 4 ATI Blue+, 2 ATI Aquablue Special and 2 ATI Purple, on between the hours of 11am to 10pm daily.
Maintenance & Feeding
---
My tank is fairly easy to maintain at the moment. I use a magnetic brush to clean the algae on the aquarium walls every other day; I like my tank clean and bright. I clean my filter bag once a week. I use Tropic Marin PRO-REEF seasalt mixed with RO water to change out 60L of seawater. I clean my Skimmer collection cup once a month. Because my lights don't have retaining glass I need to clean the T5 reflector film every 3 months (this is my least favorite part as it is quite a hassle). I generally take out my TUNZE6105 to remove calcium alginate every 3-4 months. I change out my T5 lamp once a year. I have a 60L fill tank, and I use TUNZE 3155 to fill the tank. Its performance is stable and precise. Because the city I live in doesn't get too hot in the summer, I did not use a cooler, just a fan placed above my main tank to lower the temperature. Even during the hottest times, this can ensure the water won't exceed 28 degrees Celsius.
Because I have suffered the loss of SPS due to low nutrient levels, I now stick to a very regular schedule for feeding my fish and reefs. I like to use a variety of different feeds as a mixture. For fish feed, I use Newlife Spectrum Thera +A, Ocean Nutrition Formula One, Ocean Nutrition Forumula Two, Hikari MEGABITE RED, and Firstbite Marine Pellets. Each week about an hour after I turn off the lights, I will feed my reefs a coral mixture of Tropic Marin Pro-coral phyton, Tropic Marin PRO-CORAL ZOOTON, Brightwell Zooplanktos-L, Brightwell Phytogold-M, cyclop-eeze, and Brightwell CoralAmino. I believe a diverse feed will help improve the health of my fish and coral reefs.
Livestock
---
I raised around 30 or so fish, it's so beautiful to watch them swim among the reefs. My wife and daughter feed them twice a day. They love taking care of the fish. My SPS count isn't high, I like to give each SPS ample space to grow and thrive.
Future
---
I plan to change all T5HO to LED's for lighting towards the end of this year. LED technology has become more and more mature; it can add more fantasy to my tank while emitting less heat and providing better energy efficiency. I like trying out new technologies on my aquarium.
Acknowledgement
---
I want to thank my wife, who has always supported me. Without her, there would be no aquarium. She's the one to get me started and her support is the reason I stuck with it through each and every issue encountered. I hope that, with her continued support, my aquarium can run for a long, long time. I'd like to thank Reef Central for this rare showcasing opportunity. And I want to thank all those friends that have given us guidance and help along the way, thank you all.
---
Feel free to comment or ask questions about my tank in the Tank of the Month thread on Reef Central.